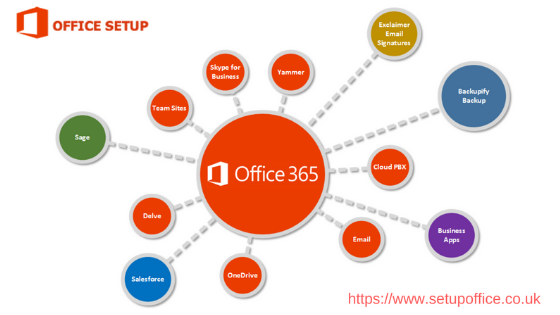 Office 365 setup for your business for 2019!
What is Office 365?
Office 365 is Microsoft's software plus services offering that includes office productivity apps and cloud storage. The service allows for users to install Microsoft Office on their PCs, storage space on OneDrive and 60 Skype minutes per month. There are various offerings for consumers and business wishing to use Office 365.  
What is Included Office 365?
Office 365 is suite including Office applications (Word, PowerPoint, Excel) along with other productivity services, what we call them as cloud services. The Office 365 plan is available for both home and business version. The latter includes Skype for business web conferencing and Exchange Online hosted email together with extra online storage with OneDrive for business. A special version of Office setup helps its users to install it on the multiple computer systems.
Microsoft Office 365 provides cloud-based tools on a subscription basis. All of the familiar tools you know from the desktop version of Microsoft Office ( Word, PowerPoint, Excel, Outlook etc.) are accessible within a web window with the servers all set up for you. Files and data can be shared via Microsoft's OneDrive or SharePoint applications.
There's no need to worry about warranties or hardware failures as everything is maintained by Microsoft and kept in the Cloud. Office 365 also has the option to keep a copy of its software on your local PCs on up to 5 devices by upgrading your monthly license, or, you can take advantage of its new "Office On Demand" feature that enables you to stream visualised versions of the full desktop software to any Windows 7 or Windows 8 PC.
Office across your devices. Always have the latest versions of your familiar Office applications, no matter which device you're using — PC/Mac, tablet, or phone.
Get work done together. Work across devices to create, edit, and share your Word, PowerPoint, Excel, and OneNote files online. Anytime, anywhere.
More for your money. With low upfront costs and the flexibility to add users and services as needed, Office 365 provides the ROI you need to succeed.
Updates and maintenance. With Office 365, Microsoft takes care of all the dirty work so you don't have to. Updates, patches, and upgrades just happen in the background without you needing to worry about it.
Secure. Office 365 applications are accessed through 128-bit SSL/TSL encryption so that if a transmission is intercepted by someone without authorization, they won't be able to read it. And that's just, o begin with.
We can help you to navigate the various options available and choose the right solution depending on the exact needs of your business.
Who is Office 365 For?
Individuals who are looking for a cost-effective solution to use their favourite office applications from their laptops or tablets. 
Start-ups and Small Businesses can utilise a variety of Office 365 plans to suit their needs, at lower upfront expenses. Based on monthly subscription plans, Office 365 takes into account scalability whilst retaining flexibility by allowing users to access their applications from anywhere on any device.
For the Medium to Enterprise businesses, Office 365 provides a dynamic and secure set of tools that will help your business communicate and collaborate easily. With no upfront costs, larger businesses have the flexibility to host their services on-prem and sync with the cloud for continuity.
Five Benefits For Office Setup:
1. Stay up and running, no matter what happens:
Let's face it. If your in-house system crashes or your office building is destroyed by a fire or flood, you're stuck. You have no data, servers or website. Statistics collected in 2015 by the U.S. Institute for Business and Home Safety showed that 25% of small businesses do not reopen following a major disaster. If you send your data to the cloud, all your business documents and applications, such as email, will always available. You'll be up and running, no matter what happens.
2. Easily Communicate and Collaborate Inside and Outside Your Organization:
With Office 365, you can create a password-protected portal to share large, hard-to-email files both inside and outside of your organization, giving you a single location to find the latest versions of files or documents, no matter how many people are working on them. Send instant messages to colleagues and customers and invite them to participate in online meetings where you can review documents or take control of a desktop.
3. You can work anywhere at any time:
Working remotely used to mean you needed help from an IT friend or cousin to set up a Virtual Private Network (VPN) so you could access your files from the office. With Office 365, this isn't necessary. You don't need any special configuration or IT skills. All you need is an internet connection and you can start working. It's that simple!
4. Safety and Security:
Security is the priority at Microsoft data centres. With Office 365, you can use the same systems used by Microsoft and other enterprises worldwide to help protect email, documents, and networks. These systems scan your messages and documents for spam and malicious software (also called malware) 24 hours a day, 7 days a week. Microsoft data centres help safeguard your data and are certified to meet multiple industry-standard certifications.
5. Predictable Monthly cost:
This one is pretty cool for small businesses. Forget about upfront costs! Office 365 has a flexible monthly billing process that lets you add or decrease the number of users to suit your needs. You're not locked into a contract and you change plans at any time to suit your growing business needs. This kind of scalable solution might be exactly what a small business is looking for to get started in the cloud. Since you don't have to worry about upfront costs, it will be easier to fit this solution into your monthly budget.
How to Install MS Office Setup:
Office 365 is designed specifically to work with the latest versions including Office 2013 and Office 2011 for Mac. Although it can also be used with the previous versions you will be able to access only a few features of it. Three steps required to get this latest version of Office Setup is:
1. Office Setup Download 2. Office Setup Install 3. Office Setup Activate
You can download the setup by logging in to your MS account. New users have to create an account by using the sign-up process. You might be asked to enter the 25-digit product key that you have got with the Office 365 business purchase. Once you are done, follow the below-mentioned steps:
1. Plan your Office Setup first to decide what information you need, how to get help and much more 2. Create new accounts for users and add your domain by using your setup wizard. This will help you personalize everyone's user ID as well as email 3. Visit Office 365 admin centre 4. To begin the wizard, select Go to Setup 5. After creating an Office 365 account, you can install the complete version of Office. For Office 365 business version, each user can install the Office on up to 5 PCs or Macs 6. Visit the link https://portal.office.com/OLS/MySoftware 7. Login with your registered account and select install
Steps to install Office 365 Home:
1. Redeem the product key 2. Sign in to your MS account by visiting www.office.com/setup 3. Select Office 365 subscription 4. Change the language or version (32 or 64-bit) 5. Choose install
In case of any help, call MS Office support team and get an instant solution. You can also call them if an error occurs during the Office Setup installation or downloading. The team works for 24*7.